So, I don't know what's particularly interesting nowadays, so here's a look at the past week's highlights—let me know which you'd like to know more about, dear readers.
1. The blacktress is officially booked on Quantas flight 740, departing San Francisco on October 11, 2008. I arrive in Sydney on October 13*-- holla!!! Eli Reed and other Aussie friends: I expect you to have 12 rugged men and 7 koalas waiting for me.
2. Tonight is date #2 with a hottie from NEW ZEALAND!!!
I mean, that's practically
like
Australia (don't tell him I said that—there's apparently beef between the two countries), so it's great preparation for the big trip. It also allows me to pretend like I'm dating Jemaine from "Flight of the Conchords" (let me look at my list....living the dream? CHECK! hot accent? double-check! love for a blacktress? mutha-CHECKIN' yes!)
He has even asked me to be his "summer girlfriend"—yes, please!! Best to go out with a
bang
, I always say!
3. This morning, I was on the Underground Railroad heading in the wrong direction (
to
the plantation), when a petite pregnant lady got on the train. Being NYC at rush hour, of course there were no seats left. She quietly stood and grabbed the pole, and I looked around momentarily. Not a single man, woman, or child got up. I got the woman's attention and offered her my seat. She immediately accepted and I stood up over the young, able-bodied hipster guy who I had been sitting next to. He looked momentarily sheepish, then went back to reading his book on social theory.
I was so annoyed by this turn of events. Well, yes, I would have liked to sit, but I was more put off by the fact that I, a young blacktress, was the only person who offered to give this clearly-8-months-pregnant woman a seat on the train. She's holding life in womb, for Christ's sake! I can barely stand up in a pair of heels, so lord knows the day I accidentally get knocked up, I'm gonna need to take a knee every ten seconds!! And, on top of that, I noticed that when she sat down she wasn't wearing a wedding ring—is she a
single
mom, struggling with the worry of how to raise this incoming fetus on her own?! My lord, if I had that weighing on my shoulders in addition to the baby weighing on my torso, I would probably be in a Jazzy Electric Wheelchair, much like this one: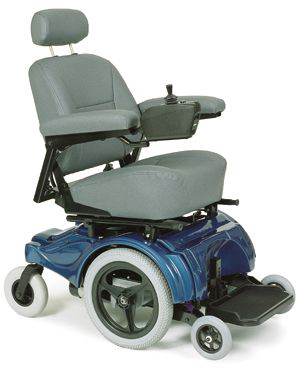 It's actually called a "Jazzy."
The refusal of any man to get up off his ass and give her a seat reminded me of the words of a great poet—Nelly Furtado—in her hit opus "Promiscuous":

"Roses are red / some diamonds are blue / chivalry is dead / but you're still kinda cute."
I mean, if that ain't the gospel truth, I don't know what is. If it was 1956, everyone with a Y chromosome would have gotten up when that woman came on the train, and some probably would have removed their bowler hats. Alas, those days of propriety are gone.
I guess I shouldn't be so upset, though—if the old days were still around, I'd be sitting at the back of the bus.


*What happens to me for a whole day???? It's like I'm in some transcontinental vortex where I cease to exist…..I smell a Sci-Fi channel original motion picture!