You know this is my safe space and the receptacle for all my deepest thoughts and memories--it's my
pensieve
, if you will. (Will you????) So I feel like I can tell you that yesterday afternoon I spent much of the day looking at photos of cats.
Ever since I became a stepmom to Jewboo's cats, I've become such an animal lover! Nothing makes me feel better than a cat cuddle and I never want to leave the house. The obese cat and I have some issues (mostly cause he shit on the mattress last week and his food issues hit too close to home), but when he rolls over for a rub, looking like a little baked potato, my heart just melts a little bit.
What prompted this was my coworker telling me about the cat she's going to adopt. Apparently she's 5 years old, been in a foster home, and "struggles with her weight." AKA, she's obese like my stepson. I passed along some suggestions, but mostly questioned this cat's history.
My coworker didn't like it when I asked, "is she the
Precious
of cats?"
She sent me a link to the cat's photo on petfinder.com, a website I hadn't even heard of (it's basically a match.com for pet lovers). Well, let me tell you, I'm officially hooked. I mean, look at these frackin' kittens: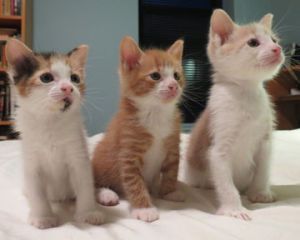 COME THE FUCK ON!!! HOW AM I SUPPOSED TO DO MY DAMN JOB WHEN THESE CUTE-ASS BITCHES ARE EXISTING?????
And they even have
a video of the momma cat and the babies playing:
Seeing all these cats in need of a home, I can sorta see how those ladies on A&E end up as cat hoarders. I mean, the ad says that the momma cat is just over a year old herself!!! That's basically the cat equivalent of
16 & Pregnant,
and you know how much I want to help those girls. And these cats lookin' all cute and bi-racial--who knows what man cat knocked her up! Is there a cat version of Audre Lorde or Lucille Clifton that I can read to her to lift up her soul???
I'd totes change her name to Shiloh and and call the rest Maddox 1-3.
If you like cats and live in NYC, they're a great pet to have. Go and adopt one from this website or foster one until it can get a permanent home.
And then let me come over over day and play with them.
Oh, and FYI: Tonight at 11pm I'm performing at The People's Improv Theater (The PIT) on
Skinny Bitch Jesus Meeting's
monthly show. Come on down!